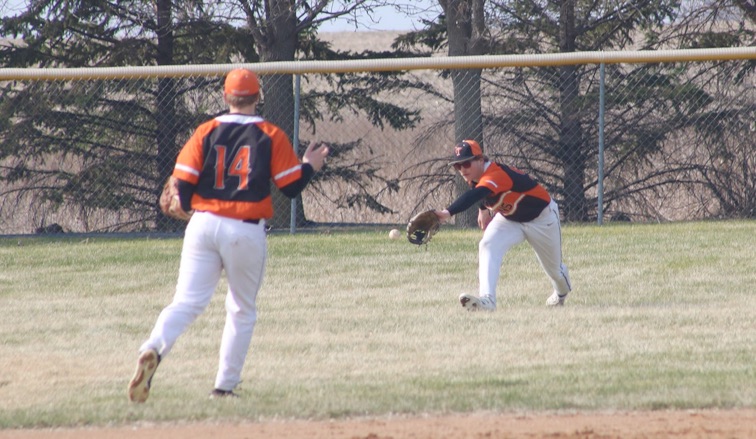 ORTONVILLE VFW PITCHER NATHAN STRONG attempts to pick off a Madison base runner at first base during their game on Sunday, June 19 in Rosen. Ortonville first baseman Dexter Tweeter is shown above looking to receive the ball from Strong. Madison defeated Ortonville, 4-1. The game was part of a tripleheader played in Rosen.
Rox return to action with wins over Minneota, Hancock

By Chris Doney

The Rox were back in Land O' Duks League action on Wednesday night, June 22 and beat the Minneota Mudhens 9-2 in Ortonville.

After a week and a half of contemplating back to back losses to Sunberg and Montevideo, the Rox were eager to get back on the field. Leading up to game time the Rox were unsure which Mudhens team they would face. Minneota had suffered losses to some tough teams including Morris, Montevideo and Chokio, with a couple impressive wins over Clinton and Rosen.  But, the Mudhens also suffered a loss to a weak Dawson team. 

With Rox ace Chris Fellows taking the mound there was little concern over missing two of their top players in Joe Fuller and Jeff Watson.  Their absence gave Aaron Quinn the start at third base who played very well.  However, without the bats of Fuller and Watson the offense had trouble scoring early.  Mudhens starting pitcher Danny Hennen struck out five of the 12 batters he faced.  A second trip through the lineup helped the Rox bats heat up.  Centerfielder Chris Doney led off the fourth inning with a double, advanced to third on a wild pitch and scored as Isaac Knutson reached on a fielding error by the Mudhens shortstop. The Rox would put the ball in play the rest for the game suffering no strikeouts in the remaining five offensive innings.

The Rox ended up scoring nine runs on 11 hits, with the help of five doubles.  Riley Sammon led the Rox with three hits, one for a double, and also drove in a run and scored.  Dan Berdan and Doney had similarly productive days, matching each other with two hits and two runs scored.  Berdan had a single, double and a run batted in, while Doney had two doubles and two runs batted in. Chris Fellows added a hit and run scored. Aaron Quinn had a single, run batted in and eventually scored in his one plated appearance. Isaac Knutson had a hit and run batted in.

Rox fielders had an easy day as the Mudhens were unable to hit ball solidly against pitchers Fellows and Curt Schake. With the win, Fellows moved to 4-0. He pitched six innings, striking out 12, allowing only two baserunners on two hits, neither of which scored.  In impressive fashion, Fellows struck out the side in both the third and fifth innings. Schake: pitched final three innings, allowing two runs on three hits and a walk and struck out two. Schake was good but lacking his normal command which resulted in the three bloop hits and two runs. Following the two runs Schake returned to form getting three straight outs to finish the game.

The Rox took another four days of rest as their Friday, June 24 game against Appleton was rescheduled to Friday, July 8. 

On Sunday, June 26 the Rox gathered in Hancock to face the second year Hancock Orphans. The Rox would come away with a 3-2 victory, but it was a hard fought game. The Orphans like the Mudhens were a potentially threatening team to the Rox as they obtained their first win over a .500 team.

Offensively the Rox got plenty of guys on base, but struggled as they scored only three runs on eight hits and 11 walks.  The Rox notched their first run as John Thomas crossed the plate in the top of the second on a well hit ball by Riley Sammon.  For the second straight game Sammon connected for three hits in five at bats, with one run batted in.  Chris Doney also had a good day offensively with one double on two hits in his only two official at bats, but was on base on all five plate appearances after earning three walks. 

In the third inning Chris Fellows led off with a single and scored on a double by Doney to put the Rox ahead 2-0.  In the fourth inning Dan Berdan singled, stole second and was driven in on Joe Fuller's double. That 3-0 lead would put an end to the Rox scoring as they stranded 12 baserunners, eight of which were in scoring position. 

The Orphans proved to be a fundamentally solid team, both defensively and offensively.  Defensively they were not flashy, but remained error free.  Offensively, they were very similar, not much power or speed, but took pitches, limited their strikeouts and played small ball to produce runs against good pitching performances by starting pitcher Fellows and reliever Tony Schake.

Against Fellows in seven innings the Orphans produced only two runs, one earned run, on eight hits and two walks.  Along the way Fellows struck out five as a 25-30 mph wind was throwing dust from the dirt infield in his face. Schake came in with the lead 3-2 to pitch the eighth and ninth innings and delivered the Rox first save of the year. Schake pitched two scoreless innings of relief as he faced two extra batters due to walks, allowed no hits and struckout the final batter with the tying run on second to win the game.  

The next Rox game will be in Rosen on Monday, July 4 at 2:30 p.m.  That game will be important in helping determine the Rox (7-1) playoff position as they try to chase down the Land O' Ducks Wood League leading Morris Eagles (8-0) and stay ahead of the Clinton Cardinals (6-2) and the Chokio Coyotes (7-3).

OHS trap team completes 2016 season at Alexandria

Ortonville's trap shooting team finished their 2016 season at the Trap Championship in Alexandria on Thursday, June 16.

Team members taking part in the tournament were Cassandra Dragt, Rachel Mork, Tyler Ruby, Travis Kellen, Tyler Jacobson, Heath Peterson, Ethan Streich, Nathan Strong, Dexter Tweeter, Ryan Muenchow, Hannah Streich, Colin Banken, Nathan Ehrenberg, Tagen Zepeda, Micah Henrich, Andrew Strong, and Jack Dragt.

There were 39 teams (approximately 1,000 shooters) that competed in Class 3A on Thursday, June 16. They had eight days of competition Class 1A-8A. Ortonville had 20 of their 30 shooters participate. The Trojan Novice team was 19th in their division, JV was 27th and Varsity was 30th. Heath Peterson (21) and Bret Korstjens (19) set new personal bests.  Nathan Strong almost shot a perfect round with a 24.

The team handed out 2016 trap team letters to those varsity participants. They were Micah Henrich, Dexter Tweeter, Nathan Strong, Ethan Streich and Andrew Strong.

Team award winners were Rachel Mork-High Season average female and Nathan Strong-High Season average male and overall team high average.

The Ortonville High School Trap Team would like to thank everyone who made their second season a rousing success. 

"We would like to thank all of the athletes for a wonderful season and to all the parents who supported them and all those who helped every week on and off the range," said Coach Jon Quast. "This season wouldn't have been possible without the generous help and support of Big Stone County Pheasants Forever Chapter. We also need to thank Pro Image, POET, Pepsi of Ortonville, L.G. Everist, Runnings of Milbank, Whetstone Sportsman's Club, and everyone who purchased raffle tickets."