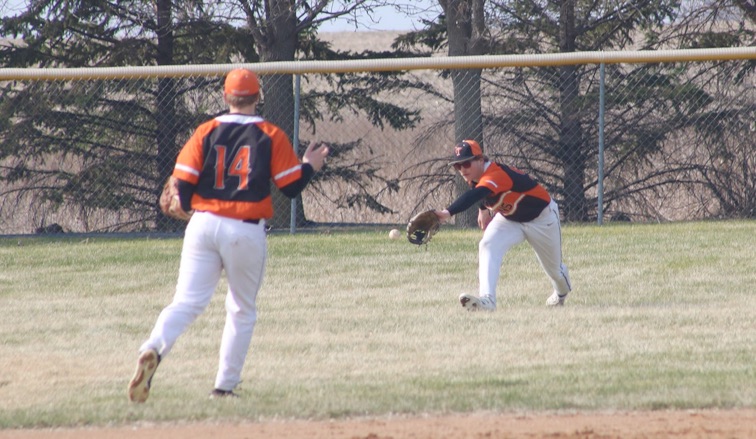 ROSEN EXPRESS FIRST BASEMAN NATE NELSON stretches to make the putout in their 2-0 win over Clinton on Friday, June 26 in Rosen. Large crowds greeted the players over the three day Busch Light Tournament with six team competing.
Express go 1-2 in Busch Light Invitational Tournament

The Rosen Express was 1-2 in the Busch Light Baseball Tournament Held June 26-28 in Rosen.  Rosen kicked off the six team tourney with a 2-0 win over Clinton on Friday.  On Saturday, Pipestone shut out the Express 3-0.  And then on Sunday, Ortonville hammered Rosen 11-0.

Summary's for the three games were: Rosen - 2 runs, 7 hits, 2 errors  and 6 LOB. Clinton - 0 runs, 2 hits, 1 error and 4 LOB. There were five double plays turned in the game, three by Rosen and two by Clinton.

Pipestone game; Pipestone - 3 runs, 6 hits, 1 error and 4 LOB. Rosen - 0 runs, 4 hits, 3 errors and 9 LOB.

Ortonville game: Ortonville - 11 runs, 10 hits, 1 error and 9 LOB. Rosen - 0 runs, 4 hits, 1 error and 7 LOB.

Pipestone was the overall winner of the tournament with a 3-0 record.  Raymond and Ortonville went 2-1.  Rosen and Clinton were 1-2.  Glencoe lost all 3 games.

Rosen will host their annual 4th of July game this Saturday starting at 2:30 p.m.  when they will host the Ortonville Rox.

Badgers drop four games, host Milbank this Thursday

The Big Stone Post 229 Badgers were swept in a doubleheader by Milbank on Wednesday, June 24 in Milbank, SD.

In the first game, the score was tied at two going into the bottom of the third inning when Milbank socred seven runs. They added three more to win the game 12-2.

Deric Radermacher was the leading hitter for Big Stone with two hits. Collecting singles were Hunter Winther, Nate Treinen, Adam Henrich and Dan Sitter. Wyatt Dewitt pitched two strong innings, but was tagged for the loss.

Milbank won the second game by the score of 15-1 in five innings. Badger pitchers allowed eight walks and gave up 10 hits to Milbank. Getting hits for the Badgers were Nate Treinen, Hunter Winther and Deric Radermacher.

On Thursday, June 25, Castlewood/Clear Lake traveled to Trojan Field and handed the Badgers two losses in a doubleheader.

In the first game, the Badgers were defeated 14-5. The game was tied at one after two innings when Castlewood/Clear Lake scored seven runs in the third inning to break the game open.

Isaac Cloos had two hits, and Isaac Adelman, Elijah Cloos and Jackson Athey each with one hit. Adam Henrich took the loss on the mound for Big Stone.

In the second game, Castlewood/Clear Lake defeated the Badgers, 10-7. Big Stone was trailing in the fifth inning when Hunter Winther laced a double to tie the score. Castlewood then scored four runs in the top of the sixth inning and went on to win the game.

Hunter Winther led the Badger hitters with a double and two singles. and with Dexter Tweeter, Adam Henrich and Elijah Cloos each with one hit.

The Badgers hosted Sisseton, SD in a doubleheader on Monday, June 29. Big Stone will then host Milbank on Wednesday, July 1 in a doubleheader starting at 6 p.m.

Big Stone City Fastpitch Softball Reunion July 12

There will be a Big Stone City Fastpitch Softball Reunion during the 130th Celebration on Sunday, July 12  starting at 2 p.m. at the ball field.

If you played fastpitch in the Big Stone Fastpitch league, men or women, they want you there. There will be no games played, but there will be a home run hitting contest for both men and women.

Please attend and enjoy visiting with former players and fans.