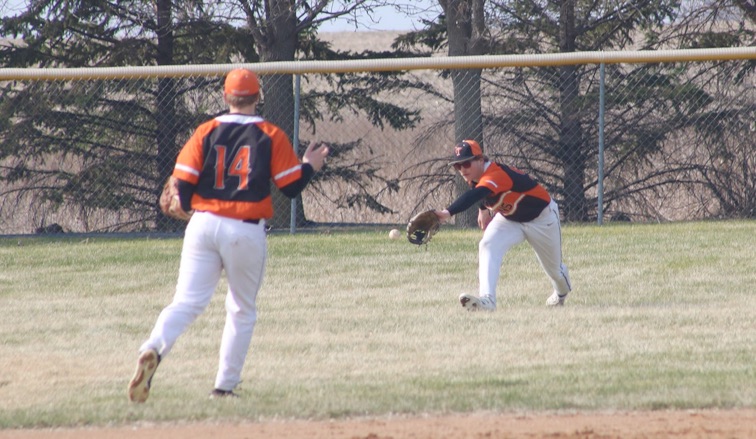 ORTONVILLE ROX CATCHER ISAAC KNUTSON delivers a single in their game against the Rosen Express Saturday, June 17, at Trojan Field. The Rox led early in the game 1-0, but were defeated by the Express, 2-1.
Kafka places fifth at State Golf Tournament in Becker

Trojan senior Karina Kafka completed a successful season of high school golf by placing fifth at the Class A Minnesota State Girls Golf Tournament at Pebble Creek Golf Course in Becker June 13-14.

Kafka put together two great days of golf, shooting a 79 (37-42) the first day and an 83 (42-41) on day two of the tournament for a total of 162.

In the individual competition, Springfield senior Callie Wersal won the gold medal with a two-round score of 155. That was five strokes better than three players that finished in the runner-up position. Finishing in a tie for second at 160 were Minneota senior Heidi Guttormson, Legacy Christian Academy junior Sophie Gray and Park Christian sophomore Emily Doeden. Ortonville senior Karina Kafka was fifth with a 162.

BOLD climbed two spots from its 2016 finish to capture the Class A  team championship. The Warriors posted a two-round score of 693 to dethrone Fillmore Central, Harmony, by four strokes. Fillmore Central was the Class A champion in 2016. Springfield finished in third with 701. Park Christian was fourth at 733, Minneota was fifth at 745, North Woods was sixth at 765, Fertile-Beltrami was seventh at 791 and Windom Area was eighth with a 799.

Kafka 's fifth place finish is the highest a Lady Trojan golfer has ever finished. She will be attending Augsburg College in Minneapolis this fall where she will be a part of the Auggies golf team.

Five Trojans selected to 2017 All-Conference team

Five Ortonville Trojan baseball players were named to the Pheasant Conference All-Conference Baseball team and one was named Honorable Mention following the conclusion of the 2017 regular season.

Selected to the All-Conference team were seniors Nate Treinen, Deric Radermacher and Britton Conroy; junior Elijah Cloos and sophomore Tyson Powell. Selected as Honorable Mention was junior Nate Strong.

Trojan Head Coach Jon Fellows was named Pheasant Conference Coach of the Year.

Rounding out the All-Conference team were:

Brandon-Evansville-seniors Kevin Campbell, Jake Nohre, Austin Bitzen and junior Jake Hintermeister.

Hancock-senior Zach Copa, Chandler Gramm and Andrew Shaw.

CGB-senior Lukas Adelman and sophomore Samuel Adelman.

Hillcrest Lutheran-seniors Sean McGuire and Reggie Undseth.

West Central Area-juniors Nathan Kaye and Levi Larkin.

Wheaton-Herman-Norcross-senior Eric Schwagel.

Ashby-sophomore Christian Norby.

Selected as Honorable Mention were:

Brandon-Evansville-Marshall Riedel.

Hancock-seniors Cody Greiner and Michael Milander.

Hillcrest Lutheran-junior Sam Ihrke and sophomore Nick Foss.

West Central Area-junior Ross Anderson.

Wheaton-Herman-Norcross-senior Zackery Deal and sophomore Nelson Schmidt.

Ashby-junior Christian Koefod and eighth grader Jordan Norby.