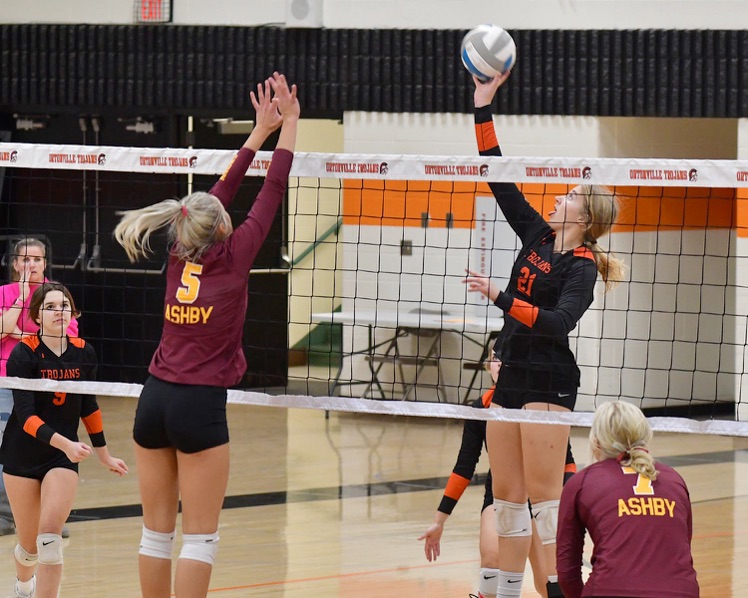 2015 OHS TEAM AWARDS were presented at the Trojan volleyball banquet on Tuesday, Nov. 17. Pictured from left to right are Madysen Stegner-Most Improved; Rachel Hoernemann-MVP; Tyler Peters-Hardest Worker; Stephanie Rausch-Most Energy; and Samantha Erickson-Coaches Award. (Submitted photo.)
Three Trojan volleyball players named to All-Conference team

One Ortonville Trojan volleyball player was named to the Pheasant Conference All-Conference team and two  were named Honorable Mention following the conclusion of the regular season.

Selected to the All-Conference team was junior Rachel Hoernemann. Selected as Honorable Mention were sophomores Madysen Stegner and Samantha Erickson.

Pheasant Conference Champions were the Wheaton-Herman-Norcross (WHN) Warriors, which placed four on the All-Conference team.

Rounding out the All-Conference team were:

WHN-seniors Jordan Stafford and Nora Schmidt; junior Hannah Gail and sophomore Anna Rinke.

CGB-seniors Kendra Gilsdorf, Kennedi Stotesbery and Kayla Moberg.

Hancock-juniors Kassandra Algarate and Sabrina Mattson.

Honorable Mention:

WHN-junior Karli Conroy; sophomore Brionna Edwards and  freshman Kennedi Wright.

CGB-junior Myah Issendorf and sophomore Callie Vold.

Hancock-senior Claire Hanson.

Kendra Gilsdorf of CGB and Hannah Gail of WHN were named Co-Conference MVP and Darla Thiel of WHN was named Coach of the Year.

The 2015 final conference records were:

Team................................. W  L

1. WHN                               6  0

2. CGB                                4   2      

3. Hancock                          2   4

4. Ortonville                        0   6

Overall records

WHN              20-6

CGB               13-10

Hancock           7-14

Ortonville         1-20