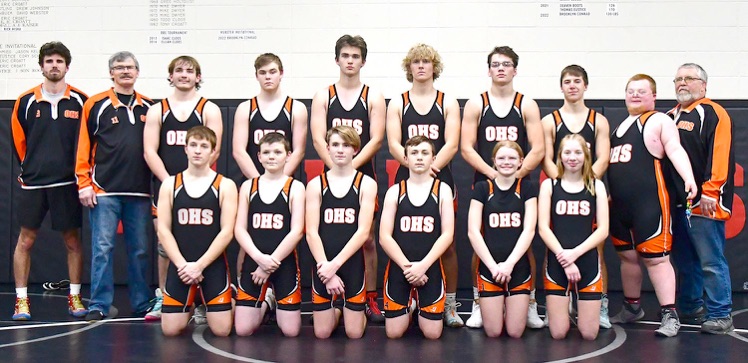 DANNY EASTMAN OF THE TROJANS, wrestling at 132, pinned Breyden Miller of Milbank at 2:32 to pick up his second win of the night in Ortonville's home matches last Thursday, Jan. 12. Eastman also won his match over Gideon Joos of MAHACA. The Trojans lost their match to Milbank, 52-27.
Cloos, Eastman undefeated in home matches last Thurs.

The Trojan wrestling team hosted Morris Area/Hancock/Chokio-Alberta (MAHACA) and Milbank, SD, in a triangular Thursday, Jan. 12 in the high school auditorium.

In their first match, the Trojans lost to MAHACA, 51-27. Picking up wins for the Trojans were Deavon Boots, Adam Strei, Danny Eastman, Elijah Cloos and Nick Miska.

In their match against Milbank, the Trojans were defeated by a score of 52-27. Results of the match were:

106 Eli Fischer (Milbank) won by forfeit

113 Tyler Krause (Milbank) over Deavon Boots (Ortonville) (Fall 1:22)

120 Toby Schneck (Milbank)won by forfeit

126 JD Lusk (Milbank) over Adam Strei (Ortonville) (Fall 1:35)

132 Danny Eastman (Ortonville) over Breyden Miller (Milbank) (Fall 2:32)

138 Jose Chen (Milbank) over Brenden Wojahn (Ortonville) (MD 16-5)

145 Benjamin Eustice (Ortonville) over Alec Bien (Milbank) (Fall 2:00)

152 Isaac Fischer (Milbank) pinned Mike Roach (Ortonville)

160 Jake Anderson (Milbank) over Colin Hartman (Ortonville) (Fall 1:16)

170 Elijah Cloos (Ortonville) over Cole Dockter (Milbank) (Dec 7-4)

182 Koben Huber (Milbank) over James Erickson (Ortonville) (Fall 1:11)

195 Riley Folk (Milbank)won by forfeit

220 Andrew Pillatzki (Ortonville) over Ben Nelson (Milbank) (Fall 2:16)

285 Nick Miska (Ortonville) won by forfeit

The Trojan mat men traveled to Parkers Prairie Saturday. Results of those matches were unavailable. Results will be in next weeks issue.

Ortonville will travel to Renville tonight (Tuesday) for a triangular starting at 5 p.m. They will then travel to New London-Spicer on Friday, with matches starting at 3:30 p.m.